Ensemble - Trio Surquin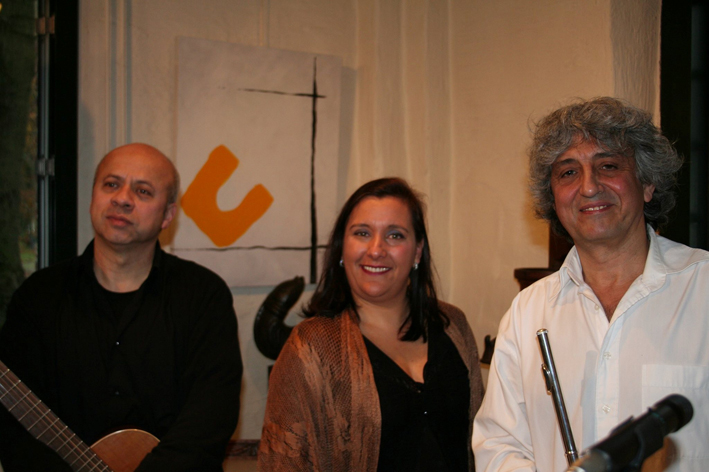 Raimond Surquin (guitar), Maria João Carmo (vocals) and Miquel Padros (flute)

Miquel Padros (flute), Raimond Surquin (guitar) and Maria João Carmo (vocals) have formed a close-knit trio since 2009.
They play with a surprising combination of special styles. They play folk music from South America alongside classical works and effortlessly add Fado from Portugal. Due to the classical background of singer Maria João, she has the opportunity to turn those fados into a whole new experience, with a diverse mix of sounds and colors.
The trio provides a lot of variety within the concerts, where voice and flute are completed by the always soft and harmonious sound of the guitar accompaniment.
A very suitable trio to book if there is no piano.
The strength of Trio Surquin is that it can go in any direction because each of the members has spirit separately. What is called "Duende" in Spain is their common source that makes them so effortlessly inspiring each other.
In addition, the origin of the musicians - Portugal, Spain and the Netherlands - is clearly recognizable in the interpretation of the always surprising programs'.
The repertoire includes Portuguese songs from the Fado repertoire, which are among the most famous in Portugal, alongside Spanish or Brazilian pieces by well-known composers from South America, such as Piazolla, Villa-Lobos, Caetano Veloso, Chico Buarque and Tom Jobim. Trio Surquin's programs include Fado, Flamenco, Bossanova or Samba. All these styles are performed by this trio according to their own interpretation, creating their own versions, so that the audience can always be sure of a special experience.
In addition, Trio Surquin also performs classical pieces such as Venetian songs from the 18th century, which sound heavenly but deal with very earthly subjects. Renaissance works by Mudarra (Spanish) and Dowland (English) are brought. Also his own work, composed by Raimond, will not be missing.
Alternating between instrumental and sung parts results in an unforgettable concert in which Trio Surquin offers the listener different atmospheres of sounds. Every "story" and every piece of music will certainly give the listener opportunities to gain new experiences of traveling through passion, magic, love, warmth, distant lands, beautiful moments or drama and fate (Fado).

In short, a very fascinating ensemble to choose for all kinds of occasions (wedding, anniversary, funeral, Christmas drink, conference). Trio Surquin always provides its varied and surprising programs in consultation with the clients, depending on the desired atmosphere and/or characteristics of the future concert. Trio Surquin, for example, plays at companies, restaurants, in castles, the Coach House, in churches and on various occasions such as cultural initiatives, festivals, and last but not least: at your home at every special moment of your life!